Cycling Portugal with Christine Dell'Amore for The Washington Post
By José Neves
Christine Dell'Amore is the online natural history editor for the award-winning National Geographic News, she has worked at United Press International and Smithsonian magazine and has written for a variety of publications, including the Washington Post. Christine enjoys riding long-distance bike trails. One day she joined us for an historical cycling trip through the Alentejo.
Published by The Washington Post | By Christine Dell'Amore
Cycling across southern Portugal in search of history — and a workout
"So, on a clear October day, I'm muscling my bike up the teeth-rattling cobblestones of Castelo de Vide, a whitewashed village topped with a 14th-century castle. It's Day 2 on a six-day historical cycling trip through the Alentejo, a fertile southern region of Portugal studded with well-fortified settlements, some dating from as long ago as the 1st century B.C. I'm a history fan and exercise fanatic, so the intermediate cycling tour — led by Lisbon-based outfitter PortugalBike — seemed ideal for exploring a country I'd long wanted to visit. (And I'll admit, 175 miles of cycling also meant that I could gorge on Portugal's famous custard tarts all week long.)
That morning we'd set out from the town of Marvao, which, at 2,828 feet, boasts the region's highest hilltop fortress. In addition to our enthusiastic guide, Jose Neves, I was riding with two other cyclists — John Reed of England and Werner Peeters of Belgium. With no experience on a road bike, I opted for the more stable hybrid bike, which made me much slower than the men."
Town of Marvão – Photo Portugal Bike
"[…] I could see why Neves said that cycling in a new country gives you "time to appreciate, to view, to notice the details, to smell, to listen." What's more, biking Portugal gets you more bang for your stride — unlike other cycling-friendly countries such as France and Italy, much of Portugal's history, and even nature, is concentrated. "You only need to ride a kilometer to see many different things," Neves told me.
When we arrived in Castelo (30 miles down!), I freshened up and headed for the castle's stone tower. A winding staircase led me to a room with picture-frame views of the red-roofed village, which has been a revolving door for conquerors since the Romans took it in the 1st century B.C. The Moors invaded in the 7th century, and the Portuguese monarchy took over in the 12th.
But perhaps most interesting, Jewish refugees from Catholic-ruled Spain took refuge in Castelo in the 15th and 16th centuries. Today, the town has the oldest synagogue in Portugal, part of a small museum (regrettably, curated only in Portuguese). I wandered the steep paths of the Jewish quarter, admiring the arched Gothic doors and the marble-columned fountain with its purportedly healing waters. That night we dined at a local restaurant — specialty du jour, deer with chestnuts — and I took a liking to ginjinha, a sweet liqueur made from a type of sour cherry."
Town of Castelo de Vide – photo Portugal Bike
"On Day 3, the landscape shifted from rocky lowlands to rolling vineyards and orchards, including olive, chestnut, pomegranate and orange trees. I often popped out of my bike clips to pick up a porcupine-prickly chestnut or taste a bitter olive plucked straight from the tree. Neves would also occasionally stop and give us mini-lectures on Portugal's trees. Olive trees, for instance, live up to 260 years — "Older than your country," he said to me with the equivalent of a wink in his voice. My favorite was a cork relative called azinheira, which reminded me of the African acacia and grows on hilly plains resembling the savanna.
Eventually an imposing, 102-foot-high aqueduct popped onto the horizon, announcing our arrival in the next medieval village: Elvas. Surprisingly, the 4.5-mile-long structure — which still brings water to the city — is not a Roman remnant, but was built by royalty in the 1400s. We checked into our lodging — a cavernous 17th-century military hospital — and made it to the well-preserved castle just before closing."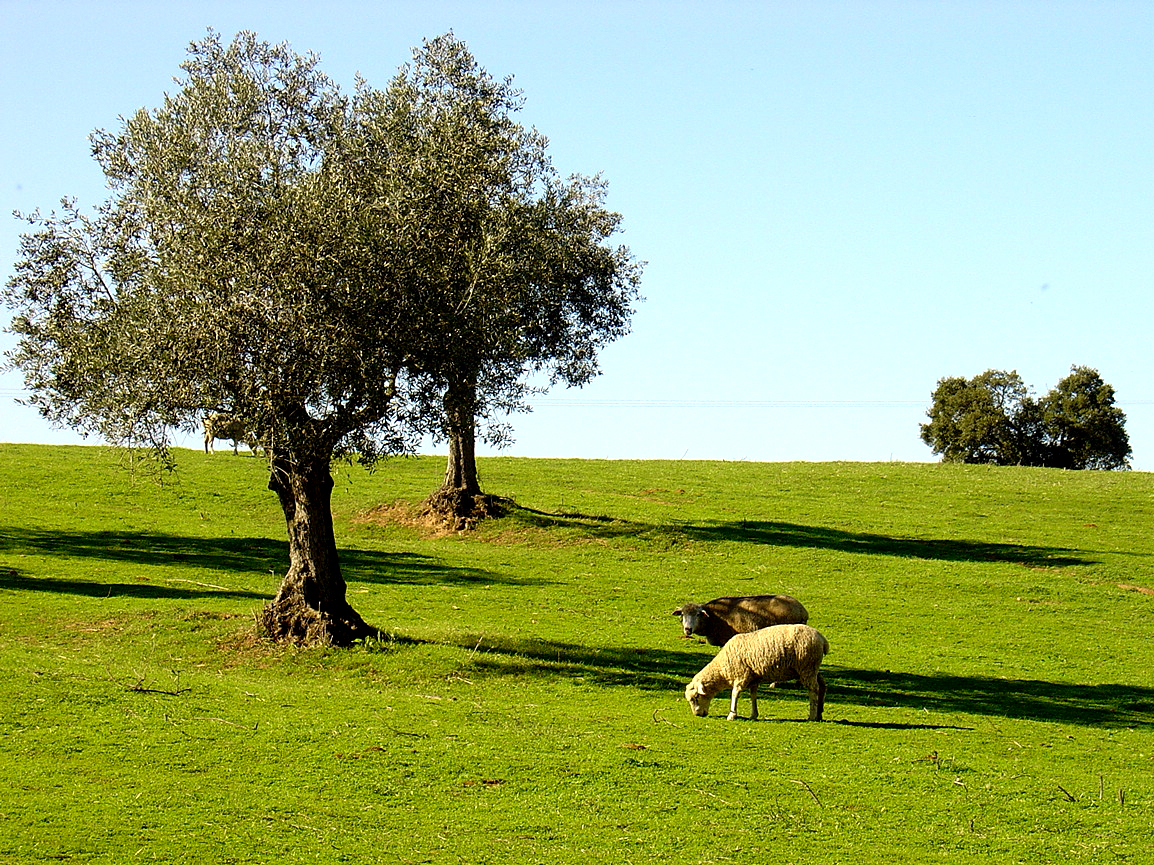 Olive Trees  – photo Portugal Bike
Christine at the town of Elvas – photo Portugal Bike
"[…] The next day we entered marble country, stopping for lunch in Vila Vicosa — a marble-producing town that was a hub for the Dukes of Braganza, one of the most esteemed houses of Portuguese nobility in the 15th century. Cristina Henriques, co-owner of PortugalBike and Neves's wife, prepared us another scrumptious picnic — a daily lunch is included with the guided tour — with delicacies such as local sheep cheese and homemade hazelnut cake.
Touring the city afterward, it seemed to me that pretty much everything in Vila is made of marble, from lampposts to the slate-blue 16th-century Ducal Palace. I was disappointed that we didn't tour it, instead visiting a marble museum. But the day's highlight was walking our bikes right into a working marble quarry, our skintight shorts attracting a few curious looks. We peered over the edge of the 250-foot chasm as the machines broke apart slabs that will later be shipped all over the world.
As the day wore on, the grade got more vertical, our surroundings more wild, and — just when I thought I couldn't take any more self-flagellation — a convent-turned-hotel finally came into view. Perched on a secluded mountainside, the four-star Convento de Sao Paulo isn't so ascetic these days (Exhibit A: several paintings of naked women), yet it has somehow preserved the feeling of a 12th-century hermetic retreat. I explored every inch of the hushed grounds, creaking open heavy wooden doors, scrambling up wide marble staircases and padding long halls bedecked with some 50,000 decorative tiles.
I almost had to duck to enter my room — two monks' cells joined together — and as I read by candlelight that night, I pictured a monk doing the same 800 years ago. Before we took off the next morning, I visited the convent's main chapel, which had been looted after the monarchy took over the Catholic Church, banning religious orders in the 1830s. It looked as if the looters had just left, with holes pockmarking the altar and the nooks for religious statues still bare."
Convento de Sao Paulo – photo Portugal Bike
"[…] On our fifth day, we rode through tiny, sun-bleached villages where elderly men on benches yelled "Tarde!" ("Afternoon!") as we flew by like exotic birds. Neves explained that Alentejo's historic villages — the buildings whitewashed to ward off heat — are usually trimmed in blue and yellow, symbolic colors for the heavens and sunrise, and thus hope. With our string of unflinchingly brilliant days, I could see plenty of reason for optimism.
After 41 miles we arrived at our hotel in Arraiolos, another renovated convent but with a more modern take (the cloister was enclosed in glass, for instance). I hiked up to the castle, which is covered with graffiti in places and overall in the worst shape of any historic site I'd seen so far in Portugal.
A little depressed, I went into the heart of Arraiolos, weaving among locals conversing on the tiny streets. Women hanging laundry from their windows yelled at passersby, and men stood gesturing in tight circles. I ran into fellow cyclist Peeters, and on our walk back to the hotel, I asked him why he'd chosen to go on this trip, his second with PortugalBike. He told me that what drew him were the kind people, the delicious food, the country's authenticity — and the chance to, in his word, unstress. "In my work I am under high pressure," he added. "I need to experience nature and exercise, to have another rhythm to life." Amen, I thought, as we passed a pasture where lambs played, the town's church bells chiming at our backs.
Our last day was a breezy 16 miles, and we arrived in Evora, Alentejo's capital and a UNESCO World Heritage Site, in early afternoon. After a bittersweet (okay, fine — gleeful) parting with my bike, I climbed to the heart of the city to see the Corinthian-columned Roman temple and the 13th-century Gothic cathedral. I stopped by a few more sights — including the spooky Chapel of Bones in the Church of St. Francis — and then plopped myself in the main square and reflected on the week's bounty."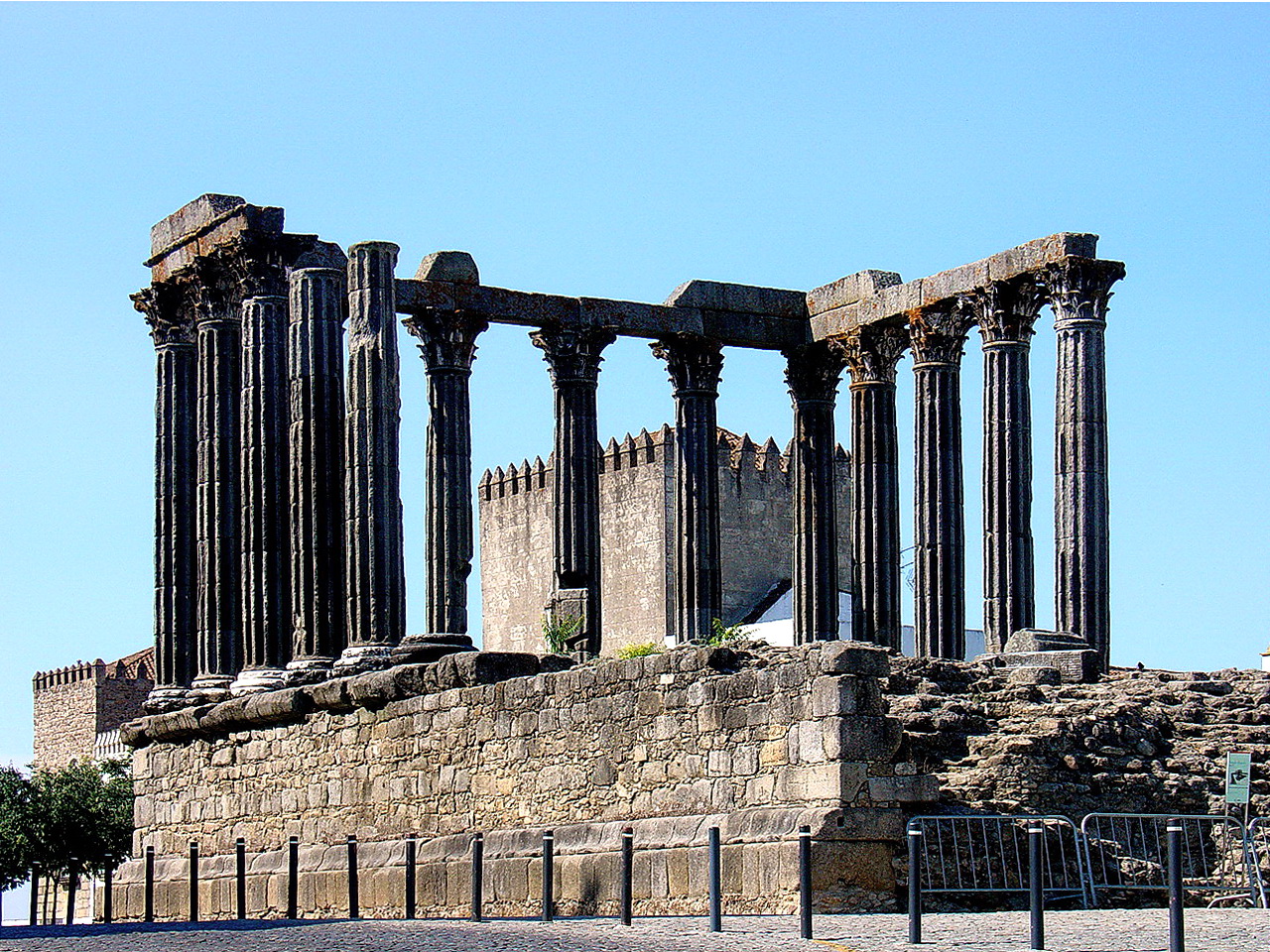 The Roman Temple of Évora – photo Portugal Bike
"I'd bicycled at least 175 miles, climbing 3,000 feet of elevation in a single day. I could say "my butt hurts" almost like a local. And, better yet, I'd ridden through time and many a dominion, taking in Portugal's gorgeous scenery along the way.
I'd come, I'd cycled — and yes, I'd conquered."
Tags:
Featured