Portugal bike tour portrayed by an amazing client
By José Neves and Dan Kitsmer
People are different, no doubt!
We used to offer this Portugal bike tour in the north: The Charming Pousadas in the North. This was a special Portugal bike tour that tooks you to some of the most beautiful places in the region and you stayed in some unique and charming hotels. It really makes you feel special.
One day we had a special client doing this tour; he was an artist! He enjoyed cycling, but he also felt the need of expressing his feelings using his watercolors. Yes, he booked a bike tour and he brought his watercolors! Every morning, before cycling, he sat somewhere painting and registering his feelings and what he was experiencing using his watercolors.
Here is the Charming Pousadas in the North portrait, day-by-day!
June 26th
"Pousada de Valença do Minho, São Teotónio, a 17th century fortress (…). We sat on a stone wall overlooking double moats and the Spanish border. We had dinner at "Fortaleza" with our guide José, founder of Portugal Bike Tours. Afterwards sat at the charming hotel café (…) with coffee and port as assistance"
June 27th, in the morning
"We woke to a glorious morning and had a breakfast overlooking the fortress and river. We got our bikes ready and with church bells ringing and Alicia jumping made an 11:00 am departure from Valença. We found ourselves on winding country roads, cobble stone streets and trying to decipher street signs."
June 27th, in the afternoon
"At 3:30 pm we departed for 30 km more riding along the river Minho and meeting the Atlantic at 4:30 pm. We stopped at a bench on the boardwalk and teenagers took our picture. Many cobblestones later we arrived at the Pousada – A breathing ride and setting. We have "Super Books" [beer – ed.] on the deck, took a dip in the pool, ate the best food so far and played a round of terrible pool [billiards – ed.] while listening to Dr. John on the ipad"
June 28th
"After a hot, tropical ride along the river Lima we reached "Ponte de Lima" – A medieval bridge spans the river as rowers paddle thru. We book massages with "Dulcinea" at our modern spa hotel – a white cube – and the small handed Spaniard [masseuse – ed.] puts us to sleep in consecutive sessions …"
"That eve we stroll thru the historic town with José and have hanging skewered meat. Followed by a stroll thru the fair. The cows had exceptionally large items!"
June 29th
"11:00 am – The magical ascension. After a late start bike and stomach trouble, the bikes magically appear at the summit…"
"12:00 pm – The beautiful and guilty descent. …And a steep downhill ride through roman roads and vino verde vines (…)"
"2:00 pm – The first of the café breaks. Followed by a hefty home cooked lunch at Casa do Mosteiro – They were closed but fed us huge quantities of ribs and chicken…"
"Departed lunch at 3:30 pm and rode through cobblestones and more long vines."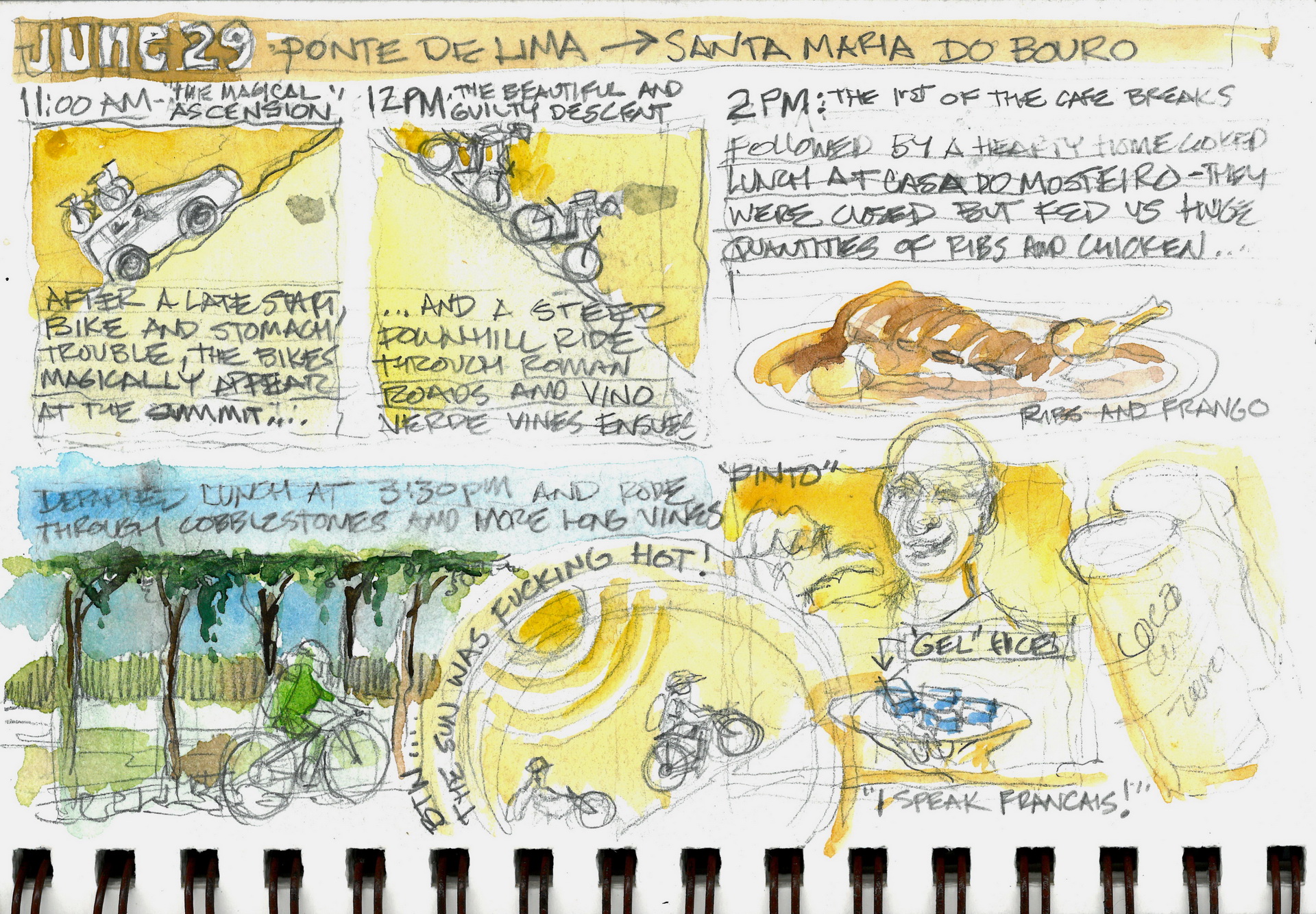 June 30th
"Santa Maria do Bouro to Peneda Geres National Park"
People are different and express themselves differently. Some people post pictures, some paint, some write poetry …whatever, but everybody communicates. Human being is really amazing!